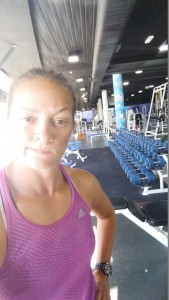 My last blog was in December 2015. In that, I mentioned all the new bits Andy and I had decided we needed to improve on, and how big and apparent the changes were already becoming. I ended with the blog with 'watch this space'. If we fast forward to Feb 28th 2016, those changes we made in those months before became very real in my Discus throwing! I went from being a 60m thrower at best over a season to a 64 and 65m thrower in a 3 day period! Moving up to 2nd on the British All-Time lists and the English Record holder!
So how did I do it…? The big question I (and my coach) am being asked by everyone! Well in all honesty, I'm not sure there is a simple answer for it. I think it has come down to a combination of things…
Strength. I have been building my general strength for years. Although I haven't actually thrown a Discus PB in 5 years, I have year on year improved my gym strength and my specific (Discus) strength. With the support of Solent University in Southampton, we are now able to measure just how effective my strength blocks have been.
Speed and Power. Again, not something that has obviously translated directly in to my throwing over the years. But is still something that has been developed since my last PB and I am noticeably better in both now, compared to previous years. And also now measureable with the help from the biomech team at Solent Uni.
Consistency. I had not thrown further than 60.76m in 5 years but I was still managing to throw 60m every year, and in harder conditions. One of which came in the Commonwealth Final in 2014 (60.48m) where there is absolutely minimal (or zero) help from the wind as it is in a stadium. 2015 I threw 60.01m in France in a stacked competition 7 weeks after a parathyroidectomy. I also had my best average over a season- despite the op's.
Health. Now I believe this one to be the biggest reason for my improvement. I went on funding in November 2011. In November 2012 I was going through a divorce and needed a kidney stone removal operation. In 2013 my divorce came through. In November 2014 I had a second kidney stone removal operation. In May 2015 I had a parathyroidectomy. In November 2015 I came off funding. I believe these things had the biggest impact on my progression. Luckily I was on funding and these operations were dealt with very quickly and put me in a great position to prepare for 2016 and get my automatic qualification for the Olympics.
Training opportunities. I have been lucky enough to be able to train with 2009 World Champion Dani Samuels, Commonwealth Finalist Christie Baker and their coach Denis Knowles in Sydney for 2 consecutive years as I have family based there. Having this option available to me during our winter has proved career changing! It is lucky that Horsham actually has an indoor facility available to me to train in as there are very few in the South- or the UK for that matter! But it is difficult to train for months on end indoors when you are an outdoor sport. In addition to training partners and weather, NSWIS (New South Wales Institute of Sport) allowed me to train there and use recovery as well. So even facilities were better than I am used to.
Minimal interruptions. With all of the above, and my Osteo and Pilates team at Bridgeham Clinic keeping my 'normal niggles' at bay, I have been able to train uninterrupted since August 2015. Something that just hasn't been possible in over 5 years!
So a fairly long answer to a short question! It must be said however, both Andy and I did not expect the throws I did manage! Leading up to the New Zealand competition and the New South Wales State Champs, we knew I was in good shape. I threw a PB in training of 62m, then backed it up with 62.30m the following day! This left me in a very strange place mentally! Normally at training, I don't really know how far I am throwing. And even with the throws that are measured, they're never usually very far! My previous training best was 60m. Once! So to know I have thrown the Olympic standard in training, knowing I usually do better in competition than I do in training, well it quite frankly left me confused! I thought "how is it now this easy? I've been trying to throw 61m plus for 5 years, and now it's happening with such ease… what is going on?! Maybe I have peaked and I'll bomb at the weekend! But that makes no logical sense and how would I suddenly lose my discus throwing powers??".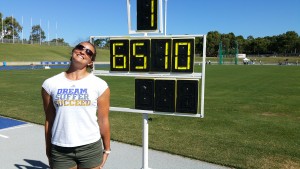 I had to convince myself to trust the process and the distance would happen. Throwing 61 shouldn't be the focus, the process of how to do it is. The rest of course, is now history! 64.22m in that meet, 65.10m in the NSW Champs 2 days later! Crazy, crazy couple of days. With both of those throws, I couldn't see just how far it had gone and remember just thinking, "it could be 60m…but I hope its 61m!". Little did I know!!
None of it could have been done without the support of my team. I thank you all for everything you have done so far and what we can achieve this year and beyond!
The next step for me is 4 weeks here in the UK building up some strength again and preparing for the next block. Then off to San Diego for 4 weeks for a training camp and some opportunities for some more good competition.
So until the next interesting read, this is the NEW English Record holder, signing out!