There are many views on what an elite athlete life looks like. We may think we know what it involves because we follow our favourites on social media. Bottom line is, we don't know what actually goes on unless we know the person directly and can see what day-to-day life looks like for them. And even then, that's only one athlete. That is not a representation of all athletes. Which leads me on to this. To be one of the best in the world at something takes a lot of sacrifice and selfishness- the latter word nobody really talks about.
I want to write about a number of topics. This first one is about fairness of sport. Hopefully it won't be too ranty. It could be a little blunt but fingers crossed, not offensive.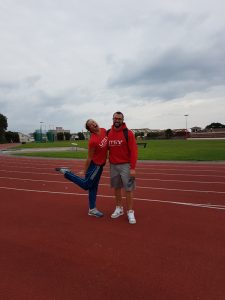 I wanted to start with what I think elite sport is. I am an International athlete of 12 years. I have competed at one U23 European Championships (where I finished with a bronze medal), 3 European Championships (7th being my best finish), 3 Commonwealth Games (making the final in all 3 and picking up a bronze medal in one), 1 World Championships (finishing 8th in my qualifying pool but not making the final) and finally 1 Olympic Games (finishing 15th in my qualifying pool and again, not making the final). I've also competed in a number of Diamond League competitions all over the world, my best position was 3rd at the Anniversary Games in London.  Then finally, my rankings. I am the current English record holder and sit 2nd in the UK All-Time rankings. My best World ranking is 11th (end of the year). I have achieved all of this whilst holding down a job(s), received no sponsorship contracts and had Lottery funding for a total of 5 years (2012-2015 & 2017). The financial support was (from memory) 2 years were £3k each, 2 years were £9k each, then a £7k year. It is worth pointing out I received a lot of help medically during my 2 kidney stone removals and a benign tumour, along with the usual 'upkeep' of an athletes body. It is also worth mentioning that I recieved help from Bridgeham Clinic for Osteopathy, pilates and massage, and also the last 2 years, free gym membership from The Real Gym Chessington. Last but not least, GLL have been able to give me a couple of hundred pounds for the last few years too. The following views are my own and are based on my own experiences.
Elite level sport, is not fair. I try to remember this to keep myself sane. It irons out expectations of what I think I 'deserve'. I have been asked a number of times why I haven't put myself on a crowd funding page or even eBay. I have nothing against people doing that, please don't get that twisted. But I can't help but think, why should other people pay for my hobby? Which lets face it, is all it really is. There are athletes out there, balancing full time jobs, their own young family, whatever other life commitments and stresses they have going on, and they are still going to Championships representing their country. I personally couldn't ask for someone else to pay my way because I would prefer to play FIFA during the day instead of going to work. I am more than happy for them to help me in other ways. Give me opportunities to earn money- pay for personal training sessions with me, invite me to you work place or school so I can educate/ motivate/ inspire you to exercise. Give me an opportunity to earn. I'm not looking for a hand out, I have a good work ethic and I have learnt how to juggle life and how to prioritise.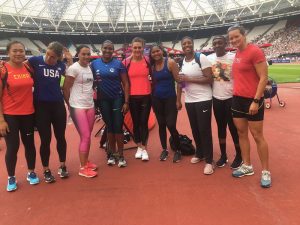 Someone once told me that a lot of successful athletes in the 80's worked full time jobs and still made it to the Olympic Games- and medalled in some cases! He said "having a sponsor would make it easier, of course it does. But they still made it".  I'm sure he has no idea what kind of lasting impact he was going to have on my career. That one sentence made me think, 'well if they can do it, I can bloody do it'. And as a result, I took some unpaid annual leave in 2016 and I made my first Olympic Games whilst holding down my job. I remember (and it made the local paper) getting off the plane from Rio, going straight home to get changed into my uniform and immediately went back to work. I even got to work in time to see Team GB getting off the plane at Heathrow on the lunchtime news. I did have to explain to people that I was on that plane, I just had to get back to work.
It is my belief that some lucky (and I emphasise the word lucky) athletes are able to get funding from their governing body and/ or from sponsors. Don't get me wrong, there are some phenomenal performances that are more than worthy of support from both governing bodies and private companies. There are plenty of people have earned the right to receive some kind of support. But the mistake that people sometimes make it that they compare their performance to others and think it's like for like. I know that for some athletes, winning the National Championships is a pretty big deal and there are financial rewards. I have won it 7 times and never received anything other than a well done from the people around me and my own pat on the back. I was actually quite shocked to hear you could walk away from it with anything more than just pride and the title of British Champion. My point is, sometimes your face fits and you event ticks the box. Sometimes you're in the right place at the right time talking to the right person. Luck. Sometimes your performances are one of the best in the world and you've picked up medals at a Championships, but you're over 30 and considered too old for investment. So if athletes are chosen to be supported, because they have either earned the right to be and can't not be, or they're simply one of the lucky ones, the outcome is the same. Sponsorship is probably nice to have (it will of course come with added pressures and expectations), but it is not everything. I imagine athlete life is easier having extra cash or not having to worry about buying kit, supplements etc. But the thing I try to remember is it is not impossible to win an Olympic medal without that type of support. It may be harder, but it is not impossible. That is my drive, to prove that this can be done without Nike in my corner and being over 30yrs old. Just do it..? *insert hold my beer meme*.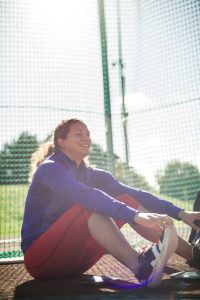 The top end of sport, or business, or politics, isn't fair. To be the best, or one of the best at anything usually requires thick skin. So why is it so many people get angry and offended at not being selected for funding or being selected for teams when it was never a given? Some aspects of sport are portrayed to be fair, and is fair in some cases. Other aspects are meant to be fair, but we know it isn't. That's the way life is. If it wasn't a given, i.e. I did not do enough to guarantee myself to be put on funding or make a team, I can not and will not let that stress me out. I cannot afford to waste emotional and physical energy on something that was never in my control. It's a well known phrase to control the controllables. In my opinion, it is preached frequently but practised rarely. I had a conversation with someone who made it clear for me on the type of person I want to be. Again, he probably has no idea on the lasting impact he had on my attitude as an athlete. He told me he opened his door to get out of his very average, slightly run down car to come face-to-face to a brand new Land Rover with the sponsored athlete's name plastered all over it. This athlete was in his event and is his direct competition. He told me that he didn't get angry that Land Rover had given him a car. He was inspired. He wanted one. He thought if he can make an impact on sport that way that this guy has, then he can get a free car. If he can step up like this guy has, he will get opportunities too. When I heard that story, I only heard inspiration and positivity. I didn't hear jealousy and envy. Both are infectious attitudes and they're both powerful. But one is positive and one is negative. I choose to be positive and surround myself with like-minded, positive people. Don't get me wrong, I rant and spout off like all people do. But my core belief is a positive one. I choose to be inspired by lots of people, I choose to dream of being successful and I make choices to close the gap on the difference between dream and reality.
The next time you look on Insta, see if you follow people that are inspirational. Are they realistically attainable? Do you follow people that are super rich or super skinny and feel bad about yourself after? Or do you feel that could be you, you can achieve a life like that? The people I follow have a similar work ethic to me (or that's what they portray and that's what I see at least), or I get ideas off of them for work and/ or training, I have a genuine interest in their life and so on. I don't follow people that moan and bitch about others. It frustrates me and is unnecessary. If I am the average of my circle of friends, then I am happy with who I have become. I can still be better but as it currently stands, I am happy. And that's the first step.
Key points:
To be selfish isn't always a bad thing.
Learn how to juggle and how to prioritise.
It might be harder, but it's not impossible.
Control the controllables. Practice, don't preach.
Be inspired/ motivated, not jealous.
Jade